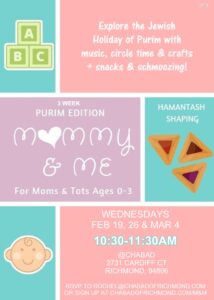 A special place for mother and child (ages 0-3) to spend quality time together 
in a warm Jewish environment.
The Mommy & Me program brings the holidays and traditions to life with age-appropriate activities and tactile, hands-on Jewish themed play. Jewish music gets the little ones clapping along. Toys, props and sensory play all serve to turn it into the child's world, so they are able to experience Jewish life from their young perspective.
The sessions are led by Morah Rochel, an experienced early childhood educator with a natural love and passion for Jewish education. You and your child are sure to enjoy. 
Mommy & Me sessions take place throughout the year.
Upcoming Sessions:
Purim session: February 19, 26 & March 4
Passover session: March 18, 25 & April 1
Wednesdays @10:30am – 11:30am
✿ Music ✿ Jewish Songs and Themes ✿ Sensory Activities  ✿ Parenting Discussions ✿ Social Development  ✿ Healthy Snack